Purchase
> select price
Thank you for choosing your local DMV family florist to deliver your loving gesture using our floral artistry. If you don't find exactly what you are looking for in our gallery, please let us custom design an arrangement for you, thats kind of our thing.

Be sure to ask about cut off times for floral stem procurement and delivery. We do IMPORT FARM TO TABLE WEEKLY so some unique flower varieties may require 3 to 7 days lead time to ensure that they are available on the day that you are ready to gift our ineffable floristry.

NEW 2023 5 YEAR ANNIVERSARY ANNOUNCEMENT for local DMV Florist business owners, floral enthusiast & free lance event floral designers. You can now contact our floral studio about your weekly or event floral stem count, varietal, and recipe needs at WHOLESALE PRICING. We offer onsite cutting and water facility to get your flowers in water at time of pick up to maximize stem hydration. You must provide your nown buckets.
We offer 2 weekly trucks out of Miami, FL and 2 weekly flights arriving into JFK, New York, NY with Dutch/Africa/Asia flowers brought literally FARM TO TABLE for pick up here in Kensington, MD. Inquire about wholesale pricing within at info@petalstothemetal.com
Rental of floral design space is now open, we're really enjoying our space of floral mastery and want to pay it forward in any way we can to all local or traveling floral enthusiast at all levels. Floral design space rental includes use of water, design tables, floral cooler space, carts, cut floral stem disposal and a wealth of like minded arstist rooting you on. Buckets are not provided in rental of design space.
Feel free to call and discuss any special needs with our staff. 202-701-5596 or email at oscar@petalstothemetal.com. Learn our story at www.petalstothemetal.com. follow on IG at @petalstothemetalfloristdc
"WORK HARD & BE GOOD TO PEOPLE."
Let us create a custom design just for you!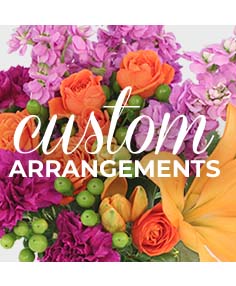 CUSTOM ARRANGEMENT
of Fresh Flowers
$75.00, $100.00, $125.00
Shown at $100.00
Send a dazzling and unique arrangement, custom made just for them! We will be sure to create something as exquisite and excellent as them. It'll brighten up their day and show them how much you care for them. They'll truly treasure receiving flowers from you!